September 5th, 2017
Beantown make a triumphant return to the WPL, securing a bonus point win against Atlanta:
http://www.nerugby.com/sept-5-2017-beantown-return-wpl-win/
_________________________________________________________________________
For years, the Boston Globe has published their All-Scholastics page as a special section in the Sunday newspaper. With the ascension of rugby as an MIAA sport, recognition follows and we see rugby standing alongside football, baseball, track, etc., in all its glory.
There are probably countless people who worked tirelessly to make this happen over the years, but I would guess Bill Good deserves more than a fair share of the credit. Take a bow, Bill et al.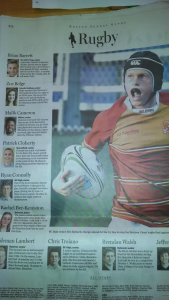 ***********************************************************************************************
First thoughts from the USA v Ireland game today:
If you just look at the score in the paper, 55 points to 19 comes across as a pretty comprehensive win. And while it was, that probably doesn't tell the whole story. Giving up nine tries is never good, and the score-line could have been worse if the Irish kickers had been more accurate with the conversions in the first half.
But for long periods, the Eagles competed decently, even scoring three tries and with a bit of luck could have grabbed one or two more. But you don't beat a top five ranked team like Ireland relying on luck, and little things are punished ruthlessly. Two of the first half tries each came from a single missed tackle. Two were from set plays, and one was from the old scrumhalf blind side break from the scrum. Those are tough to give up and those aspects will have to be improved.
The Eagles competed ferociously, and in old days might have collapsed completely. You could argue that giving up six tries might be considered a bit of a collapse, but it didn't feel that was the way it did in the past. Indeed the Eagles showed initiative with the ball in the second half, two Mike Te'o breaks were crown pleasers and were instrumental in adding some self-belief to the squad.
There are positives to be taken from this. Perhaps the big one is that the USA is disappointed, coach Mitchell noted afterwards "We never gave up and tried to put tempo on the game…the start surprised us, we expected a better result (there), ….but we will become better connected over the coming weeks".
_______________________________________________________________
It is an intriguing lineup for the USA against Ireland Test game near New York on Saturday. With Ireland missing eleven players on duty with the British and Irish Lions on the New Zealand tour, you might think the USA might sneak an upset. Until you realize the US is also missing some key players
The lineups suggest the respective coaches are using the game as a prelude to more important games later. Ireland has chosen several young players and they will all be eager to show they should be in the mix going forward as the next World Cup cycle continues. And the Eagles, of course, have the all important World Cup qualifying games ahead
World Rugby currently has Ireland ranked fourth, and the USA Eagles in seventeenth place, which is quite a gap. The Eagles ran the boys in green very close in Houston four years ago and are capable of doing so again.  The Eagles continue to have players  operating in professional environments which elevates the quality of play, but so do the Irish, and they start earlier and are more steeped in the nuances of the game and that should start them off with the advantage.
_________________________________________________________
Expected lineups for the USA V Ireland Test Saturday June 10th:
1. Ben Tarr (Glendale Raptors)
2. Peter Malcolm (Austin Huns)
3. Chris Baumann (Austin Blacks)
4. Nate Brakeley (New York Athletic Club)
5. Nick Civetta (Newcastle Falcons)
6. John Quill (Glendale Raptors)
7. Tony Lamborn (Hawke's Bay)
8. David Tameilau (RC Narbonne)
9. Nate Augspurger (Old Blue of New York) (capt)
10. AJ MacGinty (Sale Sharks)
11. Martin Iosefo (University of Montana/USA Eagles Sevens)
12. Marcel Brache (Western Force)
13. Ryan Matyas (Old Blue of New York)

14. Mike Te'o (Unattached)
15. Ben Cima (Rocky Gorge RFC)
Ireland:
15. Tiernan O'Halloran
14. Keith Earls
13. Garry Ringrose
12. Luke Marshall
11. Jacob Stockdale
10. Joey Carbery
9. Kieran Marmion
1. Cian Healy
2. Niall Scannell
3. John Ryan
4. Quinn Roux
5. Devin Toner
6. Rhys Ruddock
7. Josh van der Flier
8. Jack Conan
________________________________________________________________________
Big weekend ahead, with the USA v Ireland game in Red Bull Arena in Harrison NJ on Saturday June 10th. A special recognition will happen in the 5th minute, as explained below. Consider joining in (or more importantly, break out the checkbook and send a donation). While we are at it, send one to Michael Jones in Albany NY too. Jonesy was  injured in a game six years ago, and he was hoping to attend this weekend but has had a setback and can't travel. Get donation info at: http://michaeljonestrust.org/index.html
*************************************************************************************************
University of California's Robert Paylor is currently at Colorado's Craig Hospital, where he is undergoing rehab for an injury sustained on the field of play May 6.
Over the past month, Robert and his family have received the generous offerings of support from the American rugby community in multiple forms. This Saturday, at the USA Men's Eagles vs. Ireland match at Red Bull Arena, USA Rugby would like Robert to feel the energy, support, and recognition of his inspiring efforts from the 20,000-plus fans in attendance.
In the 5th minute of the June 10 clash, a message of support for Robert, #5, will be displayed on the jumbotron and fans will stand, cheer, and applaud the tremendous effort and courage Robert has and continues to display.
"We want to send the energy from the stadium through to Robert and show him we're all cheering on his inspiring display of courage and resilience," USA Rugby CEO Dan Payne said. "Twenty thousand fans cheering for 60 seconds, recognizing and acknowledging the tremendous effort and spirit Robert has and continues to display."
A GoFundMe campaign with a goal of $1 million has been created. #TryForPaylor wrist bands, with proceeds benefitting the campaign, are also available via the GoFundMe page.
_____________________________________________________________________
No joy for Mystic River, as NYAC knocks off the 2016 Division 1 Champions in the quarter finals in Pittsburgh 32-14.  It appears these two teams were significantly better than the other bracket, as NYAC won the semi final 27-5 over the Chicago Lions, while Mystic rolled over Rocky Gorge easily in the consolation game. Mystic's game report liked to below:
https://www.mysticrugby.com/2017/05/mystics-fall-national-quarterfinals/#more-2628
———————————————————————————————————–
http://www.nerugby.com/wolfhounds-boston-women-take-top-honors-nerfu-tournament/
Wolfhounds, Boston Women win top honors at the annual NERFU Tournament
The Boston Irish Wolfhounds took top honors at the annual NERFU Tournament this past weekend, while Boston Women's RFC won the women's top bracket. The tournament is separate from the USA Rugby playoff systems, but is a popular event on the spring calendar, with more than thirty teams competing in five divisions in beautiful Newport, RI.
_____________________________________________________________
October 8, 2016: ARP Week 5 NYAC and Old Blue both win on the road, NYAC defeating Mystic 27-22, Old Blue downing Boston 96-0
http://www.nerugby.com/arp-week-5-nyac-old-blue-win/
_____________________________________________________________________ October 1, 2016: ARP Week 4 Week 4 in the ARP had NYAC getting the better of Old Blue 19-13, and Mystic River defeating the Boston Irish Wolfhounds 28-11. http://www.nerugby.com/october-1-2016-arp-week-4/ _____________________________________________________________________   September 24, 2016: ARP Week 3 http://www.nerugby.com/sept-24-2016-arp-week-3-nyac-mystic-cruise-wins/ NYAC and Mystic River were the big winners in Week 3, with Mystic rebounding from a narrow loss to Old Blue with a resounding 86-0 win over Boston RFC, while NYAC enjoyed a solid 44-7 outing on the road against the Boston Irish Wolfhounds…. ___________________________________________________________________   September 10, 1016: ARP Week 1 Old Blue and NYAC cruise to opening day wins http://www.nerugby.com/arp-week-1-sept-10-2016-old-blue-nyac-cruise-wins/ _______________________________________________________________________ September 5th, 2016: PRO Rugby players to appear in the Atlantic Rugby Premiership http://www.nerugby.com/influx-pro-rugby-players-elevate-standard-play-arp/ ________________________________________________________________ August 29, 2016: Life University officially out of the ARP, Mystic River is in http://www.nerugby.com/life-university-officially-arp/ _________________________________________________________________ http://www.nerugby.com/arp-2015-2016-spring-season-well-underway/ With two weeks of the (apparently final) Spring season of the ARP underway, the pattern of the fall has continued in the early results. The New York teams show the way, Mystic River continues to impress, and the other two Boston teams are struggling. ____________________________________________________________________ ARP 2015-2016 Life with two wins on the weekend road trip against Boston and the Boston Irish Wolfhounds, plus Old Blue defeats NYAC to round off the fall season: http://www.nerugby.com/arp-2015-2016-week-7-life-92-boston-3-old-blue-35-nyac-28-life-57-boston-irish-wolfhounds-22/ _________________________________________________________________________ ARP 2015-2016 Week 6 Boston Irish Wolfhounds 32 Boston 22; Old Blue NY 24 Mystic 20 Boston Irish Wolfhounds downs Boston  32-22 and Old Blue upends Mystic River 24-20 http://www.nerugby.com/arp-2015-2016-week-6-wolfhounds-boston-mystic-fall-old-blue/ ______________________________________________________________ ARP 2015-2016 Week 5 Mystic River 42 NYAC 5 Another week, another big win for Mystic River, this time against national powerhouse and defending Division 1 Champion NYAC. http://www.nerugby.com/arp-week-5-mystic-river-42-nyac-5/   _______________________________________________________________ ARP 2015-2016 Week 4 Big scores in the ARP this week, with Mystic over Boston, NYAC over Boston Irish and Life over Old Blue. http://www.nerugby.com/arp-2015-2016-week-4-mystic-boston-nyac-boston-irish/ _____________________________________________________________________ ARP 2015-2016 Week 3 Mystic over Boston Irish 63-0 Mystic River continued to build its hugely successful year, demolishing local rivals the Boston Irish Wolfhounds this weekend by a score of 63-0 in the APR. Mystic is the most recent entry into the APR, playing a modified ARP schedule which involves playing all teams except Life University. http://www.nerugby.com/2015-2016-apr-mystic-river-big-boston-irish-wolfhounds-63-0/ ____________________________________________________________________ ARP 2015-2016 Week 1, September 12th, NYAC downs Boston 43-3 http://www.nerugby.com/2015-2016-arp-week-1-nyac-win-boston/ ____________________________________________________________________ USA falls to Harlequins 24-19 in PPL Park in Philadelphia. With most of the possession, most of the line breaks, playing a more physical game, being more used to the conditions,  against a team playing in its first action of the season, you wonder how the Eagles lost this game. A more charitable explanation might be that the Eagles had a good run, used lots of subs, played cohesively, used lots of combinations and have nothing to fear…full report to follow….. _________________________________________________________________ ARP Select side falls to Ontario An ARP select side took on the Ontario Blues as part of a double header in Ottawa along with the USA v Canada International fixture. http://www.nerugby.com/arp-select-side-falls-Ontario/ _________________________________________________________ August 23, 2015 In case you haven't been paying attention, the USA Eagles have gone and had themselves a decent set of results in the run up to the World Cup, which starts in September. A 2-2 run in the Pacific Nations Cup 2015 (competitive losses to higher ranked Samoa and Tonga, plus wins over Japan and Canada) was encouraging, then followed that tournament with another win over Canada on August 22 2015, this time by a 41-23 score-line. Even more interesting challenges await the Eagles, with an August 30th fixture against English club side Harlequins, followed by the high profile clash with the Australians September 5th in Chicago. Harlequins can boast several internationals in the squad, but they will be in the middle of a long pre-season, so it will be interesting to see what kind of a team they will put out. We will find out soon, with the game scheduled for Sunday the 30th at 3PM EST. _____________________________________________________________________ In yet another impressive showing in Mystic River's tremendous 2015 season, the 7's squad took third place in the National Championships, losing to eventual winners Seattle Saracens in the semi-final. Two semi-final appearances within a couple of months, one in 15's and one in 7's is definitely something to write home about. Fortunately Mystic's Dale du Preez did just that, see link below for the story: https://www.mysticrugby.com/2015/08/mystics-take-third-at-nationals/#more-1843  ______________________________________________________________________ May 31, 2015: One day after last minute heroics propelled Mystic River over Kansas City Blues and into the USA Division 1 semi- final, the dream run ended at the hands of New York Athletic Club (NYAC) by a score of 38-32…. http://www.nerugby.com/nyac-defeats-mystic-river-usa-rugby-division-1-semi-final/ ________________________________________________________________________ May 30, 2015 Last minute heroics from Mystic River sees the team through to the semi finals of the USA Division 1 Championship. Mystic appeared to be in trouble as Kansas City Blues scored two quick tries to start the second half and open up a 14 point lead. But Mystic fought back and in the dying moments of the game, Evin O'Driscoll slipped over for a try. Mike Armstrong calmly hit the conversion for the one point win as time was close to expiring for the comeback win, in a game dubbed "epic" by Mystic River's coach Josh Smith. In the other Eastern region quarter final, NYAC easily dispatched Potomac Exiles, winning 50-17, with NYAC crossing for eight tries. Mystic River and NYAC will face off at 4pm Sunday with a place in the Championship game at stake. It will be the first competitive meeting between the two sides since they met two years ago in the Northeast Division 1. ______________________________________________________ May 29th, 2015 In the Division 1 Quarter finals (Easter Region) this weekend, local entrants Mystic River face off against Kansas City Blues in Charlotte, NC, aiming for a place in the National Semi Finals. If successful against Kansas City Blues, Mystic would play the winners of the tilt between NYAC and the Potomac Exiles. http://www.nerugby.com/division-1-playoffs-preview-eastern-region-may-29-2016/ __________________________________________________________________ May 21, 2015 Those among us who were eagerly anticipating a showdown between Life University, winners of the Atlantic Rugby Premiership, and Glendale Raptors, recently crowned Champions of the Pacific Rugby Premiership, will be disappointed to hear the game will not take place this year…. http://www.nerugby.com/game-arp-prp-winners/ ____________________________________________________________________ May16, 2015 May 16, 2015: Mystic River cruised into the last eight in Division 1 Men's Club Rugby with a comprehensive 48-5 win over White Plains on Saturday in the Division 1 playoff game played at Mystic's home field…. http://www.nerugby.com/division-1-mens-playoffs-mystic-river-cruises-last-eight/ ____________________________________________________________________ May 13, 2015 Two of New England's top sides, the Boston RFC and the Boston Irish Wolfhounds RFC, join forces on Saturday May 16th to take on the touring British Police Rugby team in the tourists' first game of the USA tour. The game will be held at the Irish Cultural Center in Canton MA, 3PM the expected kickoff with a $10 general admission…. http://www.nerugby.com/boston-rfc-boston-irish-wolfhounds-join-forces-day/ _______________________________________________________________________ April 9, 2015 In the last week of the 2014/2015 APR regular season, the top two teams in New England squared off under sunny skies in Amesbury, MA. Boston would prove to be the victor in an entertaining matchup, riding a four try burst in the first twenty minutes of the second half to turn a seven point halftime deficit into a fifteen point lead, then keeping the lead for a 39-31 win. In New York, NYAC defeated Old Blue 35-24 to secure second place in the competition and gain the right to enter the Division 1 playoff rounds. http://www.nerugby.com/april-9th-2015final-week-apr-action-boston-wolfhounds-nyac-old-blue/ _________________________________________________________________ Worcester, Beantown take the top prize at the 2015 New England's in Newport The 2015 NERFU Cup  in Newport RI was held May 2nd and 3rd in Newport RI.  On the men's side Worcester RFC bridged a long gap to take the top prize, and on the Women's side, Beantown captured yet another crown, dropping local rivals Boston Women in the final….. http://www.nerugby.com/worcester-beantown-take-top-prize-2015-new-englands-newport/ ____________________________________________________________________ There was little joy for the local entrants in the ARP this weekend, with both local entrants losing on the road in the APR, Boston losing to Life 38-7 and BIW losing to Old Blue New York by 52-28, while back in New England, Mystic River continues a successful season. http://www.nerugby.com/boston-boston-irish-wolfhounds-fall-apr-mystic-rising-new-England/ _______________________________________________________________________ There was little joy for the New England teams playing in the top regional competition this weekend, with Life University defeating the Boston Irish Wolfhounds 39-13, and Boston falling to NYAC 30-12 down in New York.   http://www.nerugby.com/arp-life-university-boston-irish-wolfhounds-39-13-nyac-boston-30-12/ ___________________________________________________________________ April 16th, 2015 The big game in New England club rugby this weekend is undoubtedly the visit of Life University to Canton to take on the Boston Irish Wolfhounds. Life has been a  juggernaut the last few years and show no signs of slowing down. Life is expected to be without Colton Cariaga, AJ MacGinty and Phil Thiel due to expected participation in the USA Selects camp, but as it turns out two of the three they might not have been available anyways. It will be the Wolfhounds' first big test of the Spring, and despite some recent good results, it would be a major shocker if the Wolfhounds pulled an upset here. Kickoff in Canton is a 3pm. Perhaps Boston RFC will have better success with a similarly depleted NYAC side down in New York, but Boston will have to improve significantly over the recent performance against Old Blue. NYAC needs to keep winning to keep close to Life at the top of the standings and at this point it also be considered a surprise if Boston were to triumph on Saturday. _________________________________________________________________ Old Blue over Boston 31-13 in APR action http://www.nerugby.com/old-blue-overpowers-boston-31-13-apr-action/ In the first ARP action in New England of the Spring (Week 6 of ARP) , New York Old Blue powered to a 31-13 win over hosts Boston RFC, while Life University continued its dominance in the APR with a 26-7 win over NYAC. ___________________________________________________________________ April 11th, 2015: The hibernation is over! Actually it's been over for a couple of weeks, but today marks the first weekend of high profile games. First up is Boston against New York Old Blue in the APR, in Amesbury at 1pm. Life University might be out of reach in the APR standings, but NYAC might be catchable, for OB at least. Down in Canton, the Boston Irish Wolfhounds take on Mystic River in what should be a good battle for each team. Mystic has sought out some tough competition this spring, including a trip to Life where Mystic had a rough afternoon, but the game would have served as a good lesson on what is needed to compete against good teams in the Spring playoffs. The Wolfhounds will be eager to start gelling as a team, especially with difficult ARP games coming up, such as the high profile visit by Life on the 18th of April. ___________________________________________________________________ We are hibernating currently. We might have some stories coming soon, but essentially we are in a quiet period at the moment…. ____________________________________________________________________ Eagles fall to Fiji, in a game by all accounts the Eagles could have won… http://www.nerugby.com/usa-eagles/ ______________________________________________________________________- Tonga proved to be too much for the Eagles, powering away from a 14-12 half time lead to 40-12 win. The Eagles competed decently throughout, but Tonga capitalized on a dominant scrum and Eagle turnovers to run out winners.  The scoreline was perhaps a little harsh, but good teams will always make you pay for your mistakes. http://www.nerugby.com/usa-eagles/ ______________________________________________________________   A very solid outing against Romania has the Eagles improving from 18th to 16th place in the International Rugby Board's rankings. http://www.nerugby.com/usa-eagles/ ______________________________________________________________ Eagles page has been updated with select quotes from the USA Press Conference, featuring Head Coach Mike Tolkin and Captain Todd Clever: http://www.nerugby.com/usa-eagles/ ______________________________________________________________ The USA Eagles lost to the World Champion New Zealand All Blacks by a score of 74-6 at Soldier Field in Chicago November 1st. The Eagles struggled throughout with the speed of the All Black game, despite competing hard physically and never giving up…. http://www.nerugby.com/usa-eagles/ ______________________________________________________________ The starting lineups have been announced for the All Blacks v USA Eagles game on Saturday. http://usarugby.org/mens-eagles-news/item/match-roster-announced-for-eagles-clash-with-all-blacks-at-soldier-field Mike Tolkin's side will take on a side with varied levels of experience. New Zealand's front five has only a total of 42 caps, with Charlie Faumuina accounting for more than half of that total. The back row has lots of experience, with Kieran Read prominent. Aaron Cruden gets the nod at outhalf, a position widely discussed in the media recently. Sonny Bill Williams has his first start in two years in the center, while big names Cory Jane and Israel Dagg also start. New Zealand's starters have 322 caps between them, while the bench boasts a staggering 389. Keven Mealamu has 120 of these and Dan Carter might add to his total of 100 as he works his way back from injury. _____________________________________________________________ Week 5 American Rugby Premiership October 25, 2014 On the final competitive weekend of the ARP before the winter break, Life University cruised to a somewhat surprising 61-6 win over visiting Old Blue New York in Georgia, while near Boston, eighty minutes of hard rugby failed to put any separation between the Boston Irish Wolfhounds and Boston RFC, the game ending deadlocked at 22 points each. http://www.nerugby.com/week-5-american-rugby-premiership-october-25th-2014/ ________________________________________________________________ OLDER ARTICLES HAVE BEEN MOVED TO THE MEN"S RUGBY TAB